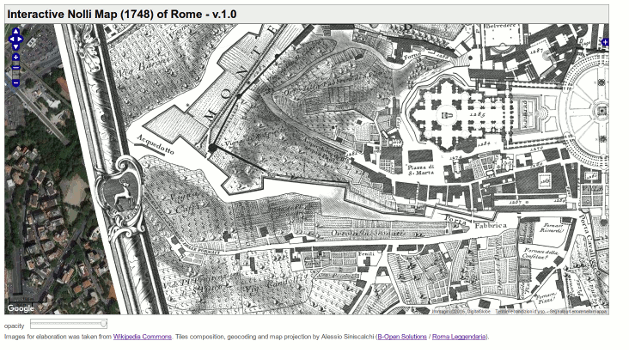 Interactove Nolli map now available
New technologies offer revolutionary new ways to bring history to life and for sure Mapping and Spatial History play a particular important role in this. So we are quite glad to present you the Interactive Nolli Map​
Sometimes, maps become more famous than their maker and Nolli map is just such a case. The captivating map, best known as "Pianta Grande di Roma", was published by G.B. Nolli in 1748 in 12 sheets and is the oldest cartographic description of the city of Rome with such accuracy and detail.
Our collegue Alessio Siniscalchi has patiently geocoded the high-res map images, available from Wikipedia, in order to provide it as a layer for the OpenLayers viewer, together with base layers from Google Maps and OpenStreetMap.
By changing the opacity with the slider under the map, you can jump from past to present to easily compare ancient and recent buildings, streets, squares, suburbs and maybe life in the Eternal City.